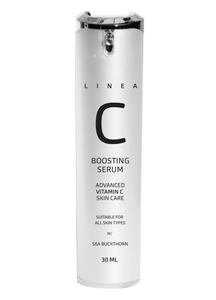 Linea C Boosting Serum is a highly concentrated product that contains a high level of nourishing ingredients. These ingredients will help revitalize your skin, boosting its collagen production and elasticity.  
Suitable for All Skin Type 
BENEFIT
High concentration of nourishing ingredients will reduce the appearance of fine line and wrinkles and provide skin renewal. 
APPLICATION

Use sparingly before day cream and night cream. Apply small amount and gently pad it on skin, do not rub or smudge. Allow the serum to absorb, follow by recommended Moisturizer.

RECOMMENDED USE

Evening Application. For anti-ageing purposes, it should be used morning and night.  
ACTIVE INGREDIENTS

Aqua, Hippophae Rhamnoides (Sea Buckthorn) Extract, Sodium Hyaluronate (Hyaluronic Acid), Sodium Ascorbyl Phosphate (Vitamin C), Ascorbic Acid(Vitamin C) , Rhamnus Purshiana (Buckthorn) Bark Extract, Aloe Barbadensis Leaf Extract, Ascorbic Acid Polypeptide (VItamin C),