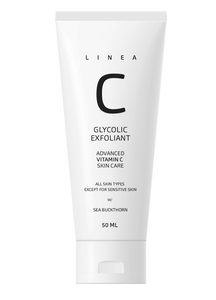 Linea C Glycolic Exfoliant is a non-abrasive granulated formula combined with Retinol, Glycolic Acid and Vitamin C.
It is especially designed to delicately remove dead skin cells. This will increase skin cell turn over, revealing newer, healthier skin. 
Suitable for All Skin Types. 

BENEFIT
Glycolic Acid is an alpha hydroxy acid (AHA) that breaks down the bonds between dead skin cells. This allows for newer healthier cells to prevail.

Exfoliation allows products to penetrate beyond the first level of the skin, for better production of collagen and elastin. This is the key to anti-aging.
APPLICATION
After cleansing pat dry. Apply Glycolic Exfoliant evenly and gently on face and neck. Leave product on for 3-5 minutes for effective absorption. Wash it off with lukewarm water and follow with Linea C Serum, Evening Moisturizer and Nourishing Masque. 

WHAT YOU MAY FEEL:

With our Glycolic exfoliation you will feel a mild tingling sensation for a few minutes during absorption of the product.

RECOMMENDED USE
Twice a week. Best used in the evening to allow for better and longer absorption.  
ACTIVE INGREDIENTS
Aqua, Cocos Nucifera (Coconut) Oil, Glycolic Acid, Helianthus Annuus (Sunflower) Seed Wax, Retinol Palmitate (Vitamin A), Retinol, Juniperus Communis (Juniperberry) Fruit Oil, Hippophae Rhamnoides (Sea Buckthorn) Oil