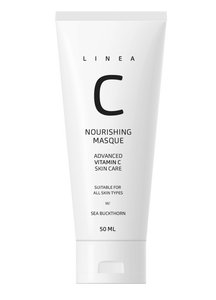 Linea C Nourishing Masque contains nourishing properties, along with soothing hydration. It repairs collagen function and vitality of your skin. It will help minimize fine lines and wrinkles, restoring the appearance of youthful, healthy skin.  
Suitable for all skin types
BENEFIT
Linea C Nourishing Masque contains intense Nourishing and Hydrating qualities. High concentration of Hyaluronic Acid locks in moisture for your skin while Vitamin C will promote collagen production and prevent aging leaving your skin fresh, supple, and vibrant.

This retention of moisture will prevent dry skin as well as hydrate oily skin. 

Ideal for hot climates to retain loss of hydration as well as soothes sun burns.

APPLICATION 

Pat lightly over Serum and Evening Moisturizer, especially after exfoliating. Do not massage and allow product to naturally absorb. Neck application important. Leave overnight for longer absorption.

RECOMMENDED USE

Must be used twice a week after exfoliation.

Can be used in evening to nourish and hydrate skin. Ideal for dry skin.
For oily skin can be used evening 2-3 times per week.

Must be used in the evening to allow for better and longer absorption. 
For prevention of Anti-aging purposes, Use the Nourishing Masque every evening.

ACTIVE INGREDIENTS

Aqua, Glycerin, Butyrospermum Parkii (Shea Butter), Sodium Hyaluronate, Sodium Ascorbyl Phosphate, Hippophae Rhamnoides (Sea Buckthorn) Oil, Sodium Hydroxide, Cucumis Sativus (Cucumber) Fruit Extract, Camellia Sinensis (Green Tea) Leaf Extract.