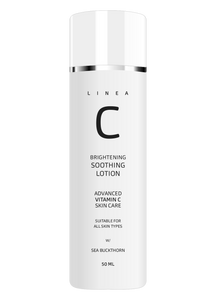 Linea C Soothing Lotion is used to soothe and brighten up your skin in combination with Linea C Brightening Exfoliant
BENEFIT
The Soothing Lotion contains an abundance of essential oils that soothes and refreshes the skin.

Must be used with Linea C Brightening Exfoliant.
APPLICATION
Use with face gauze and dampen it with Brightening Soothing Lotion. Apply gauze on your face over your brightening exfoliant and leave it on skin for 15 minutes. Repeat application of soothing lotion on face if drying begins or as needed. Rinse off and continue with Linea C Evening regime.

RECOMMENDED USE

Twice a week or once a week with other exfoliant regime.

ACTIVE INGREDIENTS

Aqua, Salicylic Acid, Citrus Limonum (Lemon) Peel Oil, Sodium Hydroxide, Cupressus Sempervirens (Cypress) Oil, Rosmarinus Officinalis (Rosemary) Leaf Oil, Elettaria Cardamomum (Cardamom) Oil, Cymbogon Nardus (Citronella) Oil, Cinnamonum Camphor Oil, Equisetum Arvense (Horsetail) Extract, Arctium Majus Root (Burdock) Extract, Arnica Montana Flower Extract, Urtica Dioica (Nettle) Extract, Salvia Officinalis (Sage) Leaf Extract